Mobile DJ Services
Our comprehensive CD library, and multiple sound system & lighting configurations can provide the right ambiance for your event, large or small...
... High School Dances (our specialty)
... Graduation Parties and Class Reunions
... Sweet 16 Birthdays (or older)
... Pool, Beach, or Boat Parties
... Weddings
... Anniversaries
... Religious or Patriotic Holidays

Pricing based on your individual needs. Please contact us for a quote by phone or click Quote Request.
For...
... the most party supplies you've ever seen
... at fantastic prices
... shipped direct to your door, wherever you are
please click our Party Store banner to the right.....>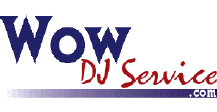 Call John:
860-942-4308

info@wowdjservice.com